You have taken the time and invested the money to design and develop your new website.
You've had internal meetings to discuss how it should look and function and tried to involve the whole team: marketing, sales, production and your website is live and looks amazing, so, what should you know about your website visitors?
I'm making an assumption now that this is not an eCommerce website but more of a lead-generation website.. your 'sale' is your lead..
You have a website for your business to act as a marketing and lead generation tool but, unless you know some key facts about what is happening when visitors drop on it and if this is improving or not, how can you possibly know if it's working as it should and delivering ROI?
Let's take a look at some of the major points you should know about your website visitors –
How many visitors does my website get?
It should go without saying that unless you have some form of website analytics (and far to many businesses don't or don't know how to access it) whether Google or another, you won't be able to know the basics about your website visitors..so, let's change that straight away and get some tracking on your website!
Installed? great, now we can dig into that juicy information you should have known for years..
What is a good number of website visitors? – this totally depends on your market sector, size of business, brand awareness, whether you are business or consumer facing and how well optimised your website is.
There's an argument to say it doesn't matter and it's more important how well they convert but, more is almost certainly better!
You may be a small business attracting 300/400/month or a service business targeting other businesses with 1000-2000 unique visitors/month which would be considered good but, whatever your traffic, what are you doing to improve it?! (you could take a look at our SEO services for how we can help)
Where are they coming from?
You know a visitor has been on your website but how did they get there? quite probably from one of the following;
direct – they typed your web address into a browser
referral – they clicked a link to your website from another website
keyword – they searched for one of your key phrases and clicked on your website from the search results
social – they clicked to go to your website from your social platforms, possibly a blog post
email – following an email campaign you've sent out
paid – from a PPC (Pay Per Click) campaign in the search engines or social platforms
Knowing the answer to this can help define which source is working the best for you, what can you do to enhance that and what can you do to improve the other sources?
Where are my website visitors going?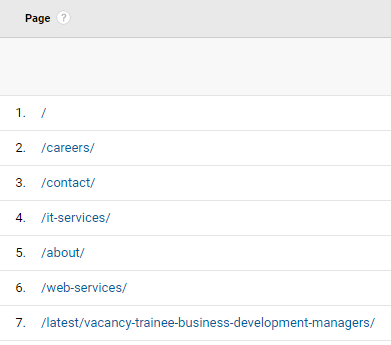 They visit all your pages and read every word don't they? It's not like your web visitors have plenty of time, even if they are looking to engage with you – it's more likely they will browse a few pages and make contact (or not) and be off your site in under 2 minutes!
Looking at which page they land on your website (entry page) as well as which page they leave from (exit page) can help give an insight as to what they really wanted while they were there.
An existing customer may just want your phone number (so make it easy for them to find on the home page) but a prospect may want more information before contacting you (or not, but we can come onto that a bit later).
Let's not forget that your existing customers are most likely also prospects for your products/services that they don't buy off you!
Your analytics can quickly help you build a picture of what 'new visitors' and 'return visitors' (what made them come back?) are doing and what you may need to do to change your website to retain more time on your site and attract an enquiry. Which pages do you really want them to visit?
If they are on your website multiple times, why aren't they making contact? There could be many reasons like: researching, competitor, existing customer but if they are a prospect, we really want to know so look at your page layout and CTA (Calls To Action) and make sure we are giving them every opportunity to make contact!
Where are they leaving from?
A visitor comes to your home page (almost certainly your most visited page) but they leave before looking at more pages, not only will this degrade your 'bounce rate' (the % of single page visits) but they haven't found out enough about your business to decide if you are a good fit (we're assuming that they dont just want your phone number..)
Your analytics will tell you which is your most highly exited page and you can then look at what you can do to improve this if needed.
Knowing the 'user flow' through your website pages can help show at what point they are dropping out (an example for an eCommerce site would be if the basket page is the highest exit page, if so, you have a problem as they will not have gone to the checkout and post-checkout pages)
If the process of navigating around your website is too complicated, they will not spend the time working out where you want them to go and you'll lose them – bye bye prospect!
Who are my website visitors?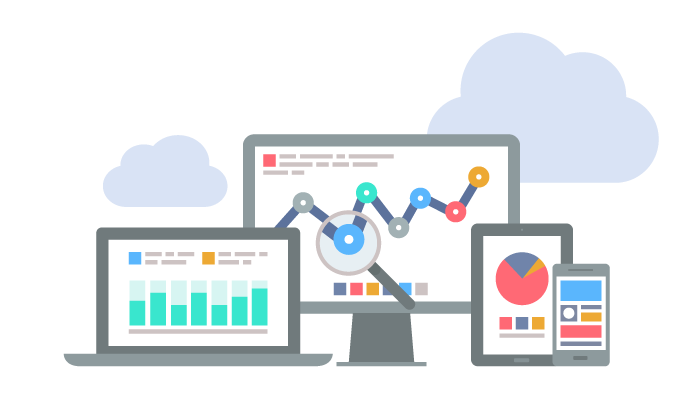 It would be somewhat 'Big Brother' to know who the individual is on your website (unless they've completed a form submission) but we can determine who a proportion of businesses are from their static IP address and use a great tool like Lead Forensics. This tool can identify those business who have been on your website (approximately 23% of businesses can be identified in this way), which pages they have viewed and for how long. All that remains is for your eager sales person to find the best way to approach the business and hopefully find who was looking and work their magic to turn the call into a face to face meeting (there's a whole art around this)
Of course this all becomes far easier when your prospect has completed a form on your website. They are keen to talk to you and your chances of getting that all important meeting have just increased massively.
If you use some clever software like Hubspot your new prospect will be automatically saved into your contact database and whenever they revisit your website, you'll be able to see what they viewed..
How long have they spent on my website?
The time a visitor spends on your website will almost certainly relate to how likely they are to make contact with you. Conversely, if they are spending too long, can they actually find what they need?
Just because they don't make contact and convert into a lead, you still need to monitor their behaviour – what were they doing, how can we encourage them to do more and what can you do to influence them making contact?
Are they converting?
You have numerous differing forms on your website – a general contact form, a call back form, a quote request form and maybe more but, can you track how many of these are submitted? (not by relying on finding all the emails)
By measuring these 'goals' you can track improvements and whether your marketing activity really works.
You can also measure the success of your forms by adjusting the fields and measuring the subsequent performance remembering that less field is almost certainly better in getting more conversions.
In summary
It's easy to get baffled by analytics and the huge volume of information available to you but dont get bogged down, concentrate on those that really matter to your business and what you can do to improve them.
You spend a lot of your marketing budget on generating leads through various channels so make the most of those website visitors and use the tools available to you to review, adjust and enhance the elements that will generate you more leads and therefore revenue.
If you'd like some help with analysing your website's performance or to discuss a new, lead-generating website project, drop us a line or come in for a chat.