Eternity Bridal
Website, UX & UI
The brief
With 5 former URL's linking to various folders of a single website, management and maintenance wasn't that easy..
With a wish to improve the visual appearance of the website, encompas under one URL and make mobile-responsive as well as to adopt a WordPress platform, a new website was needed.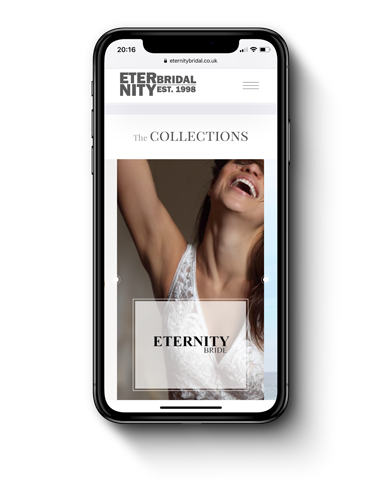 Our Approach
As always, a creative meeting to determine the desired approach followed by visual mock ups to demonstrate the look and feel was followed by key page HTML mock ups to show how the site would look across all devices.
WordPress implementation and data input followed with fine-tuning prior to go live.
The results
A great full screen and responsive approach with large product images, already seeing not only positive comments from users but visitor number increases over the previous site by 15%.
Got a project?
Contact us